Mershon Store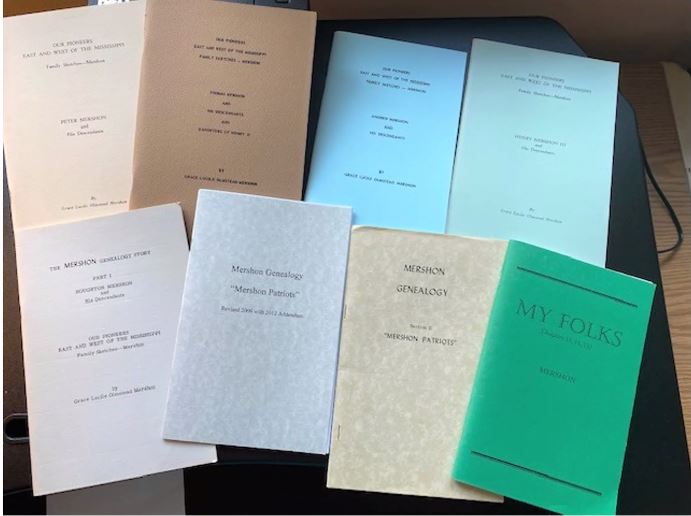 The following Mershon genealogy books and the Mershon Family Coat of Arms are available from Mershon Association Treasurer Joan Swearer, 60 Maple Avenue, Rahway, NJ 07065. Contact Joan by email at [email protected]
Mershon Genealogy Books by Grace Lucile Olmstead Mershon
My Folks, 1946, 60 pages, $9.00
Houghton Mershon and His Descendants, 1949, 24 pages, $9.00
Peter Mershon and His Descendants, 1952, 60 pages, $9.00
Henry Mershon III and His Descendants, 1953, 49 pages, $9.00
Andrew Mershon and His Descendants, 1955, 117 pages, $9.00
Thomas Mershon and His Descendants and Daughters of Henry II, 1957, 66 pages, $9.00
Mershon Patriots, Rev. 2009 by William & Barbara Trott, 20 pages, $5.00
The above genealogy books describe the first six Mershon generations in America. The above books may be purchased separately for the postpaid price shown above or $45.00 postpaid for the set of seven.
These books can be viewed online.
Mershon Family Coat of Arms – a 9.5" x 12.5" version of our family coat of arms on heavyweight glossy paper is available for $10.00 postpaid.
Mershon Polo Shirts – These grey color polo shirts have a red family coat of arms. See these shirts in the group photo on this page. Available by mail for $19.50 each postpaid from David Beun, 226 Meadow Drive, Mt. Laurel, NJ 08054. Contact David by email at [email protected], or by telephone at (609) 417-3323.
The following three items are available from Clare Mershon: (Contact Clare by mail 3809 NE 136th Place, Portland, OR 97230-2720 . email [email protected], or by telephone at (503) 679-7990.)
Andrew Mershon Tavern Album, 2007, 23 pages – Photograph album including a main floor plan, a brief history, eight historic black-and-white exterior photographs and 17 color photographs showing both the interior and exterior. Also included are two notices referring to Andrew Mershon from the 1779 New Jersey Gazette and a section from a 1781 British Army map showing the location of Mershon's Tavern. Available for $20.00 postpaid.
Video Tour of the Andrew Mershon Tavern, 2005 – DVD filmed professionally with Elmer Smith, the longtime owner who carefully did the restoration, providing the narration. This 43 minute video is available for $20.00 postpaid.
Mershon Family History in New Jersey, 2006 – DVD filmed professionally with narration by Mershon descendants. This video shows the grave site of Henry Mershon II, the Presbyterian Church of Lawrenceville, Nassau Hall and FitzRandolph Gate at Princeton University, and the ca.1740 former home of Houghton Mershon. This 44 minute video complements the Andrew Mershon Tavern video. Available for $25.00 postpaid.
©2021 and all prior years Mershon Family Association